Design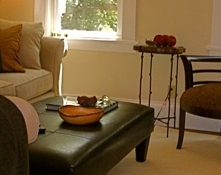 Many people are frustrated by rooms that don't work well, by wasted space , by spaces that (for no obvious reason) never seem to get used, or by an inability to "pull it together" even after spending a lot of time and money trying. After all, it looks so easy on TV, doesn't it? The answer is simple: These are all design problems, and the solution is to bring in a designer. If you want to redo a room from top to bottom, we can do that for you. Spotted Salamander also specializes in "re-design" -- that is, remixing the furniture and things you already have, adding some carefully-chosen items, and giving you a whole new look. It's an easy, affordable way to make the most of what you have, and our clients have told us that it's incredibly exciting to see a lost or tired room come alive again.
Also see our Exterior Design.
"Design is the constant challenge to balance comfort with luxury, the practical with the desirable."