Exterior Design Portfolio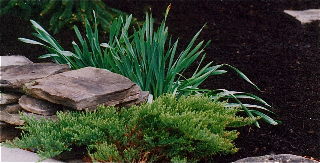 Many homeowners find gardening a pleasure, but garden design a frustration. If you spend hours in the yard and it never seems to look better, if you have problem areas you don't know what to do with, or if it just never quite comes together, you will benefit from our garden design consultation. We will give you ideas, plans, plant lists and other suggestions to make your yard beautiful. If you are a homeowner who enjoys a beautiful yard and garden but does not want to dig in the dirt, our installation service will be perfect for you. We offer complete flexibility in our services; we will do as much of the project as you wish, and we will even work with you if you are "hands on". A beautiful garden is easy -- just contact Spotted Salamander.
"If you have a garden and a library, you have everything you need."
Before
After
A giant, open lawn was overwhelming for this client. Redesigning it with a stone wall bisecting the rectangular space the long way -- parallel to the house -- created what they called the "inner lawn" and the "outer lawn", two separate spaces with different functions and moods. We planted new beds and added hardscape, and they were delighted with the change.
This client wanted privacy in her small sunroom. The two hemlocks filled in and gave her a secluded hideaway. It's important to remember that a new garden may look underplanted at first -- this one turned into a beautiful woodland.
This client lives in Vermont but wanted a design that felt like a "seaside garden". Sand wasn't practical for a variety of reasons, but the small gravel and the limbed-up shrub on the left are among the elements that give the open, sun-drenched effect on the edge of the woods.
Bridges don't have to span water -- it was fun designing this one to cross a "river" of bark nuggets.
This is one of our designs that relies on shrubs and evergreens to give texture. The varied sizes, shapes and colors along with the gravel path and stone edge make an interesting garden that is very low maintenance.
Another low-maintenance garden of shrubs and dwarf evergreens. This garden will be very slow-growing because most of the plants are dwarfs or "super-dwarfs" (growing less than an inch a year). Annuals are tucked in every year in different combinations according to the gardener's whims. The final effect can be very different depending on the plants chosen, and the client loves that variability. The reed fence hides storage space.
This walkway was based on a garden path I saw in Japan -- Kyoto to be exact. It is tricky to do. The balance of geometric shapes and organic forms is critical to having the look "work". Some people let moss grow in the cracks. This creates a beautiful effect but was not possible here because of the sunny location.